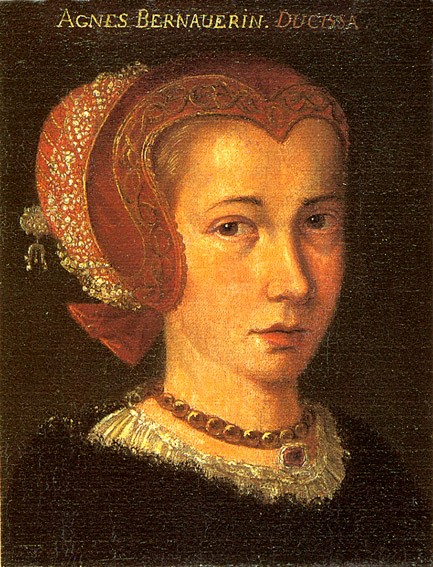 In 1428, Albrecht III. the son and successor to the throne of Wittelsbach duke Ernst, who ruled the dutchy of Bavarian-Munich-Straubing, fell in love with Agnes Bernauer, the daughter of an Augsburg barber-surgeon. However, in the middle ages, the social position of a barber-surgeon was considered dishonorable. Children resulting from such a marriage, which was not in accordance with the rank of a duke`s son, were excluded from the succession to the throne. Nevertheless, Albrecht married Agnes secretly in 1432 or 1433. As his father`s deputy, Albrecht resided in Straubing, but, in 1435, he had to flee to his castle in Vohburg after a conflict with his father caused by his marriage. At a secret meeting of "princes and noblemen" in spring 1435 it was decided to accuse Agnes Bernauer for witchcraft and high treason. In fall, Albrecht was insidiously invited to Landshut to go hunting, and Agnes travelled to Straubing alone to participate in a mass for the late brother of duke Ernst. There she was drowned in the Danube on October 12, 1435.  
Every four years the fate of Agnes Bernauer is commemerated by a historical play performed in the duke`s castle in Straubing
You can find more infos about the Agnes Bernauer Festspiele here.